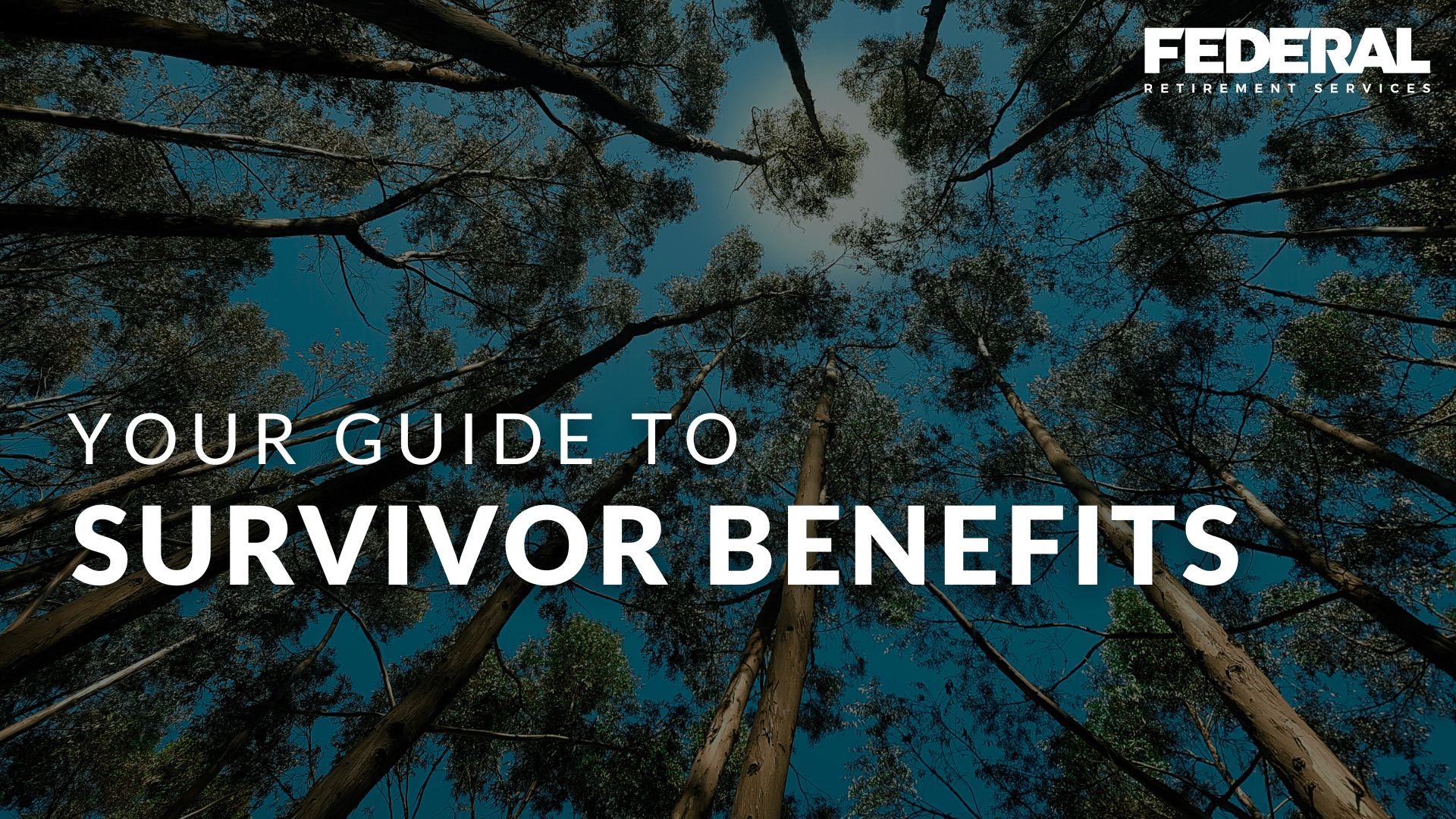 March 21, 2023
Your Guide to FERS Survivor Benefits
The Federal Employee Retirement System (FERS) provides an excellent pension for government employees, and it's generally considered the top benefit of working in public service. Your pension even has the potential to outlive you and continue to cover your surviving spouse—but only if you navigate the survivor benefits correctly. Knowing how it all works is a crucial part of financial and estate planning for federal employees. Here's what you need to know.
What Is the FERS Survivor Annuity?
The FERS survivor annuity is the continuation of pension payments to your surviving spouse after your death. This means that, if you die before your spouse, your spouse can receive a portion of your annual pension until their death. 
If you elect a survivor annuity, you have two choices: 
50% Maximum Survivor Annuity:

Your annual pension is reduced by 10% while you're alive, and your surviving spouse receives monthly payments worth 50% of your annual pension after your death.

25% Partial Survivor Annuity:

Your annual pension is reduced by 5% while you're alive, and your surviving spouse receives 25% of your annual pension after your death.
You can also choose to forgo the survivor annuity altogether, in which case your spouse would receive zero pension payments after your death, but your pension would not be reduced at all while you are still living. Note that this option will make your spouse ineligible for continued coverage under FEHB insurance.
FERS Survivor Annuity Eligibility
In order for your spouse to be eligible for the monthly survivor benefit, the following must be true:
You, the federal employee, have completed at least 10 years of creditable service

You and your surviving spouse were married for at least nine months

Your survivor benefit has not already been designated for a former spouse by court order
Note that if you have been married for less than nine months upon your death, your surviving spouse might still be eligible for benefits if you have a child together or if your death was an accident.
The 30-Day Window 
When you retire, you have a big decision to make about your pension: what, if any, survivor benefit will you choose? It's important to know that you have only a 30-day window from your first pension payment to make changes to your survivor election. During this time, you can increase, decrease, or eliminate your survivor benefits. 
If you choose to reduce or eliminate survivor benefits, you will need your spouse to sign a consent form agreeing to the change.
After the 30-day window has passed, you are strictly limited in what changes you can make to your survivor benefits. Within 18 months of your first pension payment, you can still opt in to the survivor benefit, or you can increase it. These requests will not be honored if you die before they are processed, however. There may also be additional costs involved. 
The Takeaway: You can only opt out of survivor benefits within the 30-day window, so choose your benefits wisely!
Common Survivor Annuity Questions
What happens when I die?
If you have elected a survivor benefit, your spouse receives either 50% or 25% of your pension for the rest of their life.
What happens if my spouse dies before me?
If you have elected a survivor benefit, your pension reductions will stop, and you will begin to receive your full pension payment each month. You will need to present your spouse's death certificate to the OPM to begin the process, and they will refund you any pension reductions taken after your spouse's death date.
What if I get remarried?
Divorce and remarriage can be complex when it comes to your retirement benefits. If your former spouse has the 50% survivor benefit, your current spouse cannot receive pension benefits. However, you can still designate them as your survivor to maintain their FEHB eligibility.
If your former spouse has the 25% benefit, your current spouse could receive the remaining 25% if you elect to do so. 
Note that your specific divorce settlement terms may affect these outcomes, and your situation could be different if you remarry before age 55. Consult an expert to make sure you have a full understanding of your situation.
What if I get married after I retire?
You have a two-year window after your marriage in which you can elect the survivor annuity for a new spouse. Just be aware that you will have to be married for nine months before your spouse is eligible for these benefits (though you can sign up for them immediately after your wedding).
The Bottom Line
Choosing the FERS survivor annuity is a big decision, and you can't always change your mind. So how do you know if you should elect to cover your spouse with your pension? This discussion should be part of a comprehensive financial planning session that takes into account all of your federal retirement benefits, plus your spouse's retirement savings. There's no one-size-fits-all solution.
Feeling overwhelmed? We're here to help! Get in touch to see how we can help you put together a complete, personalized financial plan for the retirement you've always dreamed of.