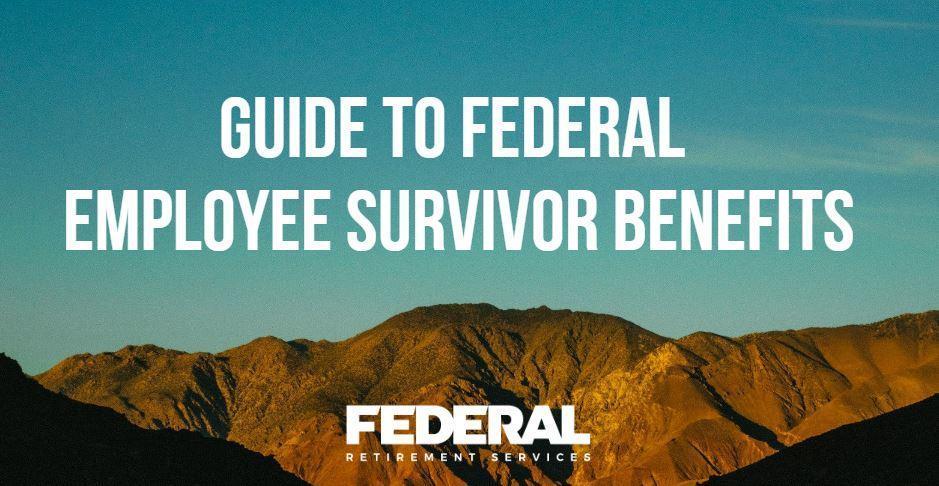 July 14, 2021
Your Guide to Federal Employee Survivor Benefits
Federal employees have a whole raft of benefits that touch on everything from retirement savings and pensions to health, life and long term care insurance. But what happens to those benefits when you die? No one likes to think about death, but it's crucial that you know how your benefits will be distributed to your surviving spouse or children. If you plan carefully, you can leave loved ones a gift of lasting security.
Here's what federal employees need to know about survivor benefits for spouses and children.
Thrift Savings Plan
The Thrift Savings Plan (TSP) is a defined contribution retirement account for federal employees. It has the same basic tax advantages as a 401(k) in the private sector, and you also receive matching funds from your agency while you are working.

When you die, your TSP account will pass to your designated beneficiary, which you must name on a TSP-3 Beneficiary Election form. If you designate your spouse, they will be able to keep the account open and use it for retirement just as you would have, with all the same rules and benefits. Any other beneficiaries, such as your children or grandchildren, would have to close the account and transfer the funds into an IRA.  Adult children will want to review the recent Secure Act changes to beneficiary/inherited IRAs.  Rather than being able to distribute inherited IRAs for their lifetime, adult children will need to deplete the IRA by the end of the 10th year following the passing of their parent.  The 10 year clock doesn't begin for minor children until they reach age 18.
If no beneficiary is named, the account will be closed and funds given to the first person in line in the standard order of precedence. The surviving spouse is first, followed by children if there is no surviving spouse then parents.
FERS Survivor Benefits
The Federal Employee Retirement System (FERS) is a defined benefit plan that pays out a pension upon retirement. This is an annuity that provides an annual payment of a certain percentage of your most recent salary, depending on your age and years of service in a federal job.
There are three types of survivor benefits connected to your FERS account, each with different guidelines:
Basic Death Benefit
When a FERS employee dies, the surviving spouse is eligible for a lump-sum death benefit equal to 50% of the deceased's current salary plus a one-time payment of $34,991. (Note that this is the approved amount for 2021, but it's adjusted annually for inflation.)
To be eligible, you must have 18 months of creditable service, and your surviving spouse must have been married to you for at least nine months OR be the parent of a child born during your marriage (even if the child is born after your death). If your death is the result of an accident, these requirements are waived.
Survivor Annuity
Provided the surviving spouse meets the eligibility requirements above AND the deceased federal employee had 10 years of creditable service, they are also eligible for an annual benefit based on the deceased's pension schedule. This benefit is 50% of the federal employee's annual pension, with no reduction for age made if they died before retiring. This amount is adjusted for inflation each year.
The survivor annuity may also be paid out to children of the deceased, as long as the federal employee had 18 months of creditable service. Eligible children must meet the following criteria:
They are unmarried

They are claimed as dependents

They are under age 18, or under age 22 if attending college full time
The age requirement is waived for unmarried, disabled dependents, provided the certified disability occurred before the age of 18.
Note that children's benefits are reduced by the amount of Social Security survivor's benefits they are entitled to. In many cases, this cancels out the FERS benefit.
Lump-Sum Benefit
If a federal employee dies and no one is eligible for a survivor annuity based on the factors listed above, survivors are entitled to a refund of all the money that was contributed to FERS during the deceased's service, plus interest. 
If this occurs, the lump-sum is paid to the designated beneficiary. If there is no designated beneficiary, the money is paid first to the surviving spouse, and then to children if there is no surviving spouse.
FEGLI Benefits
Federal Employee Group Life Insurance is an additional benefit that provides life insurance to federal employees. These benefits are designed to be paid out when you die, so the survivor benefits are much more straightforward. All funds are distributed to your designated beneficiary upon your death. 
If there is no named beneficiary, the funds are given first to the surviving spouse, next to surviving children, then to surviving grandchildren, and finally to surviving parents of the deceased.   
FEHB Benefits
The Federal Employees Health Benefits program is the health insurance plan for federal employees and their families. When a federal employee dies, surviving family members covered under the Self and Family plan can continue their coverage as long as they are eligible for a FERS Survivor Annuity. If you have a Self Plus One plan, your designated family member can continue coverage if they meet the same requirements. 
If you have a Self Only FEHB plan, there are no survivor benefits when it comes to healthcare, though your spouse and children may qualify for a Temporary Continuation of Coverage (TCC). 
Social Security
The Social Security Administration also provides benefits to survivors. It can be easy to lose sight of your Social Security eligibility in the midst of all the other benefits, but it's also important. To be eligible for survivor benefits, you will have to have earned a certain number of work credits based on your age at the time of your death. 
A surviving spouse may be eligible for benefits as early as age 60, though it will be reduced. They are eligible for full benefits if they have reached their full retirement age. Surviving spouses can also switch to their own Social Security retirement benefits when they reach retirement age, in which case the survivor benefit would cease.
If your surviving spouse is caring for children under the age of 18, they do not have to wait for the survivor benefits. 
Your children are also eligible for survivor benefits if they are under the age of 18 (or under age 19 but are still enrolled in high school). A disabled child can receive benefits until age 22. Note that these benefits will reduce or even cancel out FERS survivor annuities for children.
How to Get Help
Thinking about death is difficult, but it's crucial to plan for your family's wellbeing. If you're a federal employee with questions about your benefits, please reach out. We're financial planning experts with deep knowledge of the FERS system, and can help you with anything from designating your beneficiaries to helping you choose the right insurance coverage's for your financial situation.
If you are a surviving spouse of a federal employee, we're here for you, too. This Survivor's Planning Checklist will help you stay organized as you complete all the necessary paperwork.  If you need additional help navigating the complex federal benefits system, get in touch today. We can help you make sure you understand what you're entitled to and help you through this difficult time.