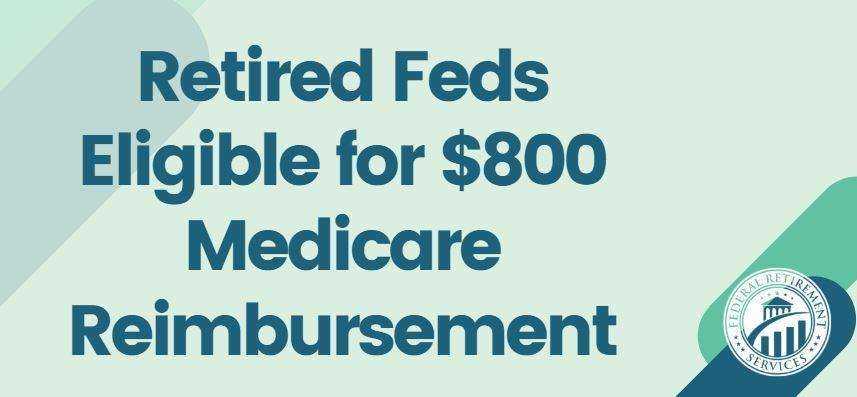 May 17, 2021
Reimbursement With a BCBS Medical Account
Who among us couldn't use a little extra cash? If you're a federal employee or retiree, you could be eligible for an extra $800 in your pocket this year, and there really are no strings attached. All you need to do is apply, and if you're eligible, you get paid.
Here's what you need to know.
The BCBS Medical Reimbursement for Medicare Part B Premiums
As a federal employee, you enjoy some amazing benefits — and one of the biggest is your healthcare plan. Fortunately, these benefits continue into your retirement and can make enjoying good health insurance affordable. Blue Cross Blue Shield offers the most popular plan for retired federal employees, and it's easy to see why.  
If you have the BCBS Basic plan through the Federal Employee Health Benefits Program, BCBS will reimburse you up to $800 for your Medicare Part B premiums. An eligible spouse can also receive this reimbursement, so a couple could enjoy a mini-windfall of $1,600. 
The best part is that ths reimbursement is yours to do with as you please. There are no limitations or regulations about how you spend the money, so you could put it toward future healthcare spending, repairs on your home, or a vacation you've been longing to take. It's all up to you!
Who Is Eligible for the Reimbursement?
To be eligible for the $800, you need to meet the following requirements:
You are a current or retired federal employee.
You have the BCBS Basic Option

for health insurance. Standard Option and FEP Blue Focus members are not eligible. 

You pay for Medicare Part B

. This is additional coverage beyond the Medicare Part A that Americans over age 65 automatically receive.
Note that your spouse is also eligible for their own reimbursement of up to $800 if they also meet these requirements. 
How Do I Apply?
BCBS offers a streamlined application process that makes it easy to take advantage of this benefit. There are four ways to apply:
Applying online or with the app will get you the fastest results, often within one or two business days. These options also allow you to choose direct deposit, further speeding the process. 
Applications processed by fax or mail can take up to 10 business days, and your reimbursement will be mailed as a paper check.
To apply, you'll need to provide proof of payment of your Medicare Part B premium. There are several acceptable ways to do this:
A Social Security Cost of Living Adjustment (COLA) statement

A canceled check

A copy of your credit card statement

A copy of your bank statement
You will also need to submit your Medicare Part B premium bill that matches the amount you paid. 
The deadline to apply is December 31 of the following benefit year. That may seem like a long time, but why wait?  
What's Next?
Once you receive your reimbursement, all that's left to do is figure out how to spend it — or how to save it. 
You can also check out our blog for more great information and advice to help federal employees make the most of their retirement savings.